Today's post is the last of the year, and it felt appropriate to share another maudlin but beautiful song I can't stop listening to:
[audio:04 Beg Steal Or Borrow.mp3]
(If you like it, visit his website and watch the video that pops up.)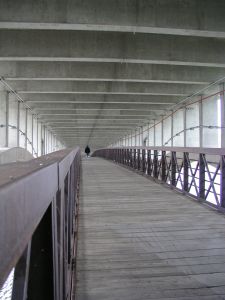 For as much as I'd miss Taos and my friends here, there's always that pull to keep on going to "where no one knows you." Adventure and anonymity make such a seductive combo, at least for this traveler.
Like "Somewhere Else," this one's about leaving all you know behind. Every time I hit the road there's a bittersweet moment when I think, Maybe, this time, I won't come back. It's as if LaMontagne is speaking directly to me when he says, "you'll find your legs and go, and stay gone."
"Beg Steal or Borrow" is also a coda to my San Diego trip, and I wish the song had been around at 17 when I was desperately trying to leave my past behind. Or maybe I'm still trying to, and that's why the song resonates with me now.
Despite all this serious talk, I'm in great spirits and terribly excited about 2011. I'm plotting all kinds of new adventures, including Scamping for a cause, and can't wait to share it all with you. 2010 will stay gone, but you are the finest traveling companions, and I look forward to seeing where we can all go in the new year.
(Photo courtesy Ron Beck)