Mom and I just got back from a trip to Nova Scotia where we had exactly one day of sun. Did that put a damper (zing!) on the Kahler mood? Please.
Nova Scotia is ridiculously pretty, even in the gloom, so it's hard not to love it. (It also has super nice people and delicious seafood. And winding roads, which were a blast in the Barbie-sized Fiat we rented.)
Peggy's Cove is a popular spot, on the south side of the island, and wet, gray skies and winds that threatened to blow us into the ocean didn't stop us from appreciating its stark beauty: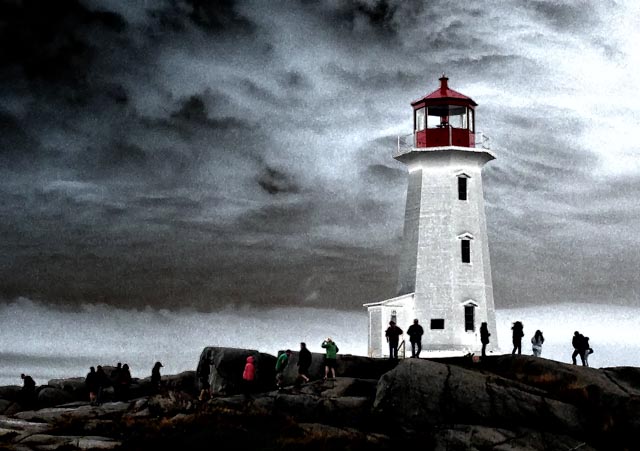 It's also near the crash site of Swissair Flight 111 that went down in 1998, though I don't think any kind of beacon could have saved them: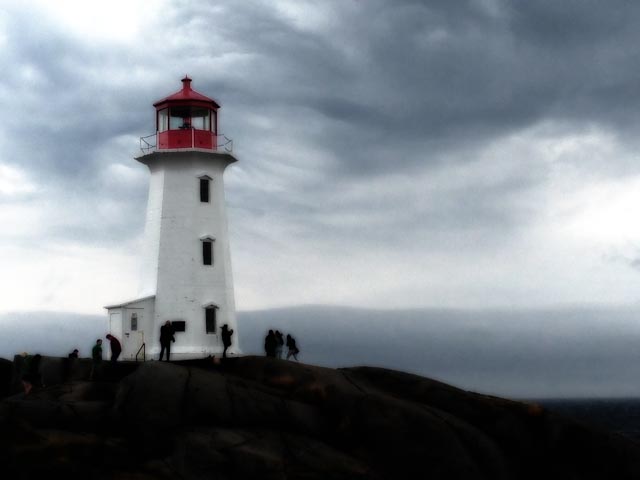 Peggy's Cove is a tiny fishing village – full-time population of 35 – and it has only one restaurant, where we had lunch. Neither of us had ever had steamed lobster in the shell so Mom and I decided it was time to change that.
Our meals came with instructions in how to crack the lobster (useful) and a bib (ridiculous but also, it turns out, useful). Despite the helpful instructions, our even more helpful waitress jumped in to help me at one particularly challenging juncture.
That's also when I should have put the bib on, but she was nice enough to not point out my error. I'm actually glad she wasn't there to witness my triumph at successfully cracking the midsection, because it was immediately followed by my shame and horror at the lobster juice and goo that shot from my plate all over my shirt and pants. I had greenish, fishy glop in my lap and Internet, it almost made me want to ditch the whole enterprise and graze the much safer, goo-free bread basket.
But I persevered. I'd like to say I wised up and put on the bib to finish out the meal, but I didn't. Vanity has its limits, and apparently my lobster sensed this because it didn't befoul me any further.
If you liked this post, feel free to share with the buttons below!