You know what it takes to grow Taos from its usual 7,000 people to 17,000 in just one day? Invite bigger-than-God Mumford & Sons to play in Kit Carson Park.
Visitors got a good taste of Taos weather that day. Here's the sky, which proceeded to dump hail, while fans were still waiting in line to get in (some showing up at 6:30 a.m. for front row):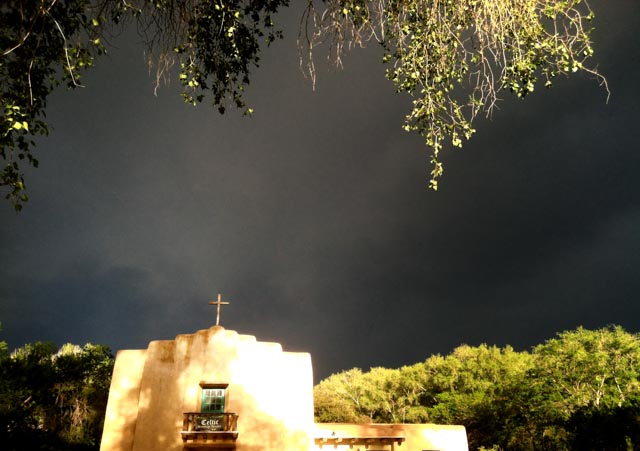 And here's Marcus Mumford (I call him Marc – we're that close now) thanking Taos Pueblo's Robert Mirabal for blessing the show:
It was a pretty amazing – okay, huge – event for our little town, and it went off without a hitch. Everyone had a great time, police stood by looking bored, and no one died or started a riot. (Seriously – some locals worried that would actually happen. I mean, come on. Mumfords are polite British boys! Some of them are even married! This does not inspire murderous violence. Excessive tea consumption, maybe, but not rioting.)
I'd love to see another big act come through next year, maybe Black Keys or Beck. Who would you love to see live, wherever you are? Or in Taos, for that matter. We love visitors.
If you liked this post, feel free to share it with the buttons below!