Nashville is home to Music Row, the Country Music Hall of Fame and Museum, and is the capital of Tennessee, but despite all that the city feels pretty soulless. (Whereas Memphis is loaded with soul, in all senses of the word.)
Other than the Hall of Fame, my favorite thing about the city was The Bluebird Cafe, the premier listening room for emerging talent. They generally do two shows a night, the first one being free, and even though you usually get what you pay for, at the Bluebird, free is worth something.
Three of the four singer-songwriters were incredible, and the room is tiny so there's no bad seat in the house. (You can reserve tables, but I showed up early, waited in line, and snagged a seat at the bar.)
The night I was there the MC was this dynamic, hugely talented young woman, who had just come off tour opening for Reba McIntyre: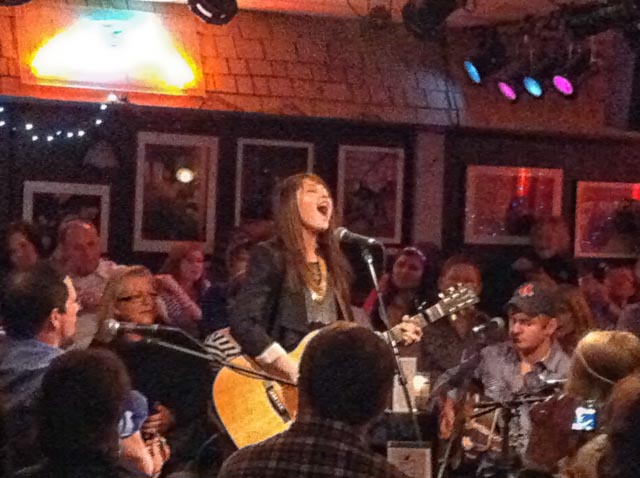 She was the best guitarist of the bunch, had a killer voice, and her songs were sassy and smart. She rocked. At one point she was telling the story of how she'd been making music from a young age, and how her parents moved her and the family to Nashville when she was ten so she could pursue her dreams of the Grand Ole Opry. Then she offhandedly said, "That was five years ago."
Yep, you got the math right. Our MC was FIFTEEN YEARS OLD.
Anyone else feeling hugely inadequate right now? Like a big giant slacker? Anyone? (Her name is Caroline Kole, for future superstar reference.)
Okay, I'll tuck my insecurities back in and get on with it. You know how cities will host a big expo and do all kinds of special construction for the event? In 1897, Nashville hosted Tennessee's Centennial Exposition and decided they were going big. As in, Ancient Greece big.
It's a full-scale replica of the Parthenon and houses the art museum, which I didn't visit because it was a gorgeous day and I wanted to let Sam have a long walk in the park instead. The building seemed a bit grand for the landscape, but what do I know. My life's dream is to have a second, bigger RV for really long trips and enough disposable income to fund regular rounds of fish tacos and margaritas. No Doric columns or ancient artistry required.
If you like this post, feel free to share it with the buttons below!