I just pulled out the maps and am planning a big Scampabout for late May. I'm beyond excited. Last year wasn't good for Scamping for a few reasons, but 2014 is feeling solid.
My new plan is to knock off all the National Parks in a state at once. (I did this in Tennessee and Hawaii, and hope to do it with the other 47 – Delaware is still sadly lacking in the National Parks department.)
In a few weeks I'll head north and pick up the Colorado Parks I've never seen (only a couple), plus cover Wyoming and Montana in their entirety. The biggies will be Glacier, up at the Canadian border, and Yellowstone, which I've already been to but am happy to see again. Yellowstone is massive, and one visit just isn't enough – it's a truly inspiring place.
Here's a photo of my first time there, back in 1994.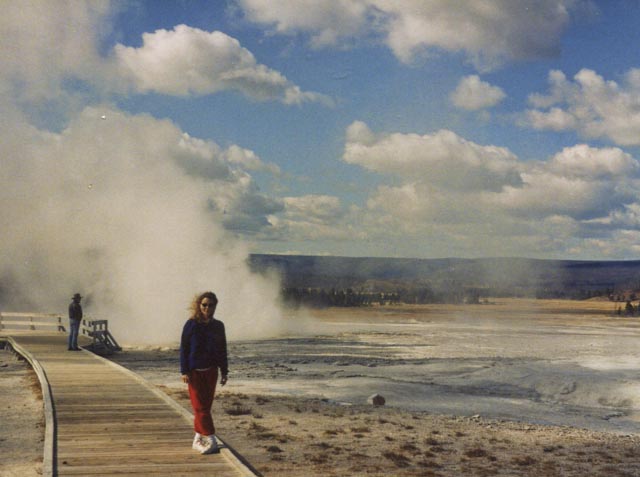 Note my patriotic ensemble! I guess I took the "national" part of the visit pretty seriously, and back then touring attire meant a blue sweatshirt, red sweatpants, and white aerobics-class sneakers. Sadie has clearly made me a more stylish traveler, though I am partial to those unattractive but wildly functional quick-dry cargo pants REI sells. A girl needs pockets.
Also, I really hope that man in the background isn't relieving himself, though maybe all that steamy, sulfurous water inspired him in a different way.
If you liked this post, feel free to share it with the buttons below!