Playing the song Hotel California. Making an entire Thanksgiving dinner from scratch. Solving complex problems.
This morning on the radio I heard Joe Walsh talking about playing with The Eagles, and how there are plenty of their songs he can sail through, but the one he can't is Hotel California.
He said it's so difficult, that even after 40 years he still has to pay close attention to make sure it comes out right. After 40 years! I won't be adding that one to my covers repertoire, because in 40 years I hope my biggest challenge is deciding whether to have pie or ice cream for dessert.
Then I was chatting over breakfast with someone at the diner. We were talking about Thanksgiving plans, and he said he'll assist his Grandma with dinner, who gets up at 3 a.m. year in, year out, to make every little bit of the meal from scratch.
She doesn't cheat with Bisquick or pre-made anything, and certainly doesn't use canned cream of mushroom soup for the green bean casserole. That idea alone would probably give the poor woman a coronary. (I'm guessing canned cream of mushroom soup has given a few people coronaries, but you know what I mean.)
And then there are these girls, who may or may not be solving complex problems, but whatever they're doing involves rockets and gravity and prehistoric skulls, which just screams difficulty, don't you think?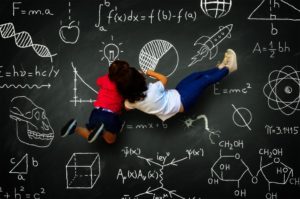 A lot of things get easier with practice, which is great because otherwise you'd want to chuck it all and never leave the couch.
But what about those things that don't? For me, writing (or any of my creative pursuits) never gets much easier, but it's so satisfying I keep going with it regardless. The ongoing challenge of it forces me to grow in ways that seem vital for a life well lived.
Is there something you pursue that never really gets any easier, but you go for it anyway? I'd love to hear about it in the comments. Or you can just share your favorite flavor of pie or ice cream. I'm curious about that, too. 🙂
P.S. I'm working on a bracelet and will post photos here when it's done. I'm also gearing up to post a video of me singing and playing, but that won't be until next week. Talk about stepping out of your comfort zone!
If you liked this post, feel free to share it with the buttons below!