That's the question I asked myself the other night.
Every year, Mom and I go to Taos Pueblo for Christmas Eve. There are church bells, the procession of the Guadalupe, giant bonfires, and rifle shots, all while the winter sun is setting and the light turns to dark. It's mystical and almost medieval, like nothing else I've experienced, and I look forward to it every holiday season.
It doesn't last more than an hour or so, but there's a strategy required to experience it. First off – layers. It's late December, so you have to seriously bundle up to not be miserable.
Then there's parking. There aren't any free public lots, just one main road in and a lot of tiny back roads, so Mom and I have over the years perfected our parking karma and always find this one spot that no one else seems to know about. It's a good one, but it's a long walk to and from.
When you get to the plaza you're standing around, trying to ignore how cold it is, and waiting for mass to end in the church, so the members of the pueblo will come out and parade the statue of the Guadalupe around the plaza. There are dancers, singers, drummers, and, as I said, rifle shots, which never fail to scare and thrill me.
There's also smoke pouring from the bonfires, so the game is getting close enough for warmth, but not too close for heat or smoke overload.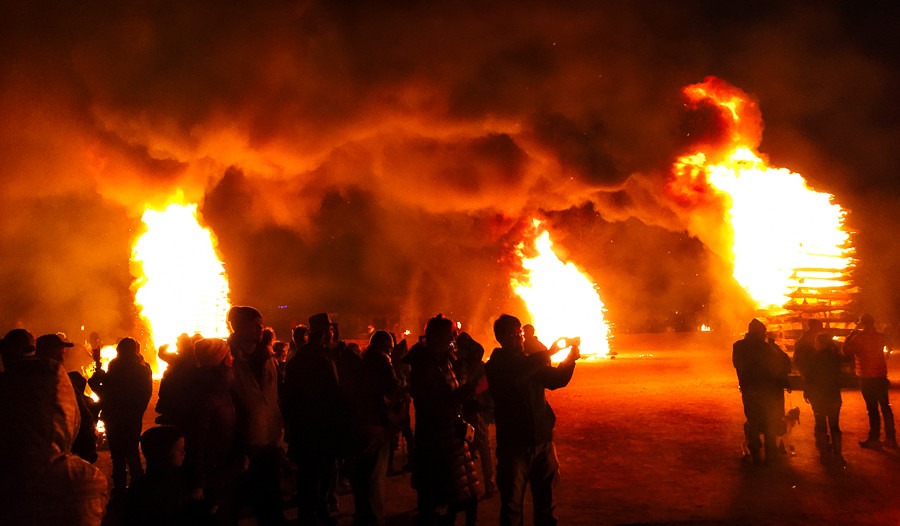 For spiritual reasons, the pueblo asks that the public not take photographs, though there are always ignorant or disrespectful visitors who ignore it and snap away. WHICH MAKES ME FURIOUS. I don't take photos, even though it's always a gorgeous scene. I hold the visuals in my mind until I can see them again the following Christmas.
Then when the procession is over, you make your way back to your far-off parking spot. We've gotten lost more than once on dark and winding roads, but when we finally get to the car it feels like we've been through something powerful. It's a struggle to get to and from the pueblo, and a bit of challenge to be there, but it's gorgeous and magical and we experienced it with friends and neighbors.
This year, for the first time since we've been going in 2005, it was different.
We left at the usual time and just before turning off to find our special spot, a pueblo monitor directed us to a lot on the right, which wasn't open in past years. We stepped out of the car into ridiculously warm air and walked yards to the plaza.
The procession and bonfires began right away, in daylight, which felt less mystical, as if the cover of darkness in the past meant you had to find it and experience it for yourself, rather than having it just laid bare.
There was a gorgeous sunset behind the church, and I was DYING to capture it with my phone, but didn't out of respect for the ban. Seemingly every other person was snapping away, though, so there I was, cursing under my breath and stomping around. Turns out the ban was lifted this year, so not only did I miss the money shot, almost everyone was looking at the scene through a lens versus experiencing it in full.
And I did too, which disappointed me a little, how easily I slipped from participant to observer. As everything was winding down, and we stood packed into the plaza with the photo- and video-making throng, I missed the magic of it all. The sense of wonder and mystery were gone.
Everything about it had been easy. It was crazy warm, we parked close by, and we got to make photographs so we could always revisit it in case we missed something. (Which we were, of course, by focusing on getting photos rather than being there with the experience.) There was no slog along dark, muddy roads, no shivering, no waiting and wondering when it would start. It was like Disneyland had moved in for the night and Internet, I was disappointed.
Because the event was so painless, it didn't feel as meaningful to me. What do you think? Can something be easy and meaningful? I'd love to hear from you in the comments.
If you liked this post, feel free to share it with the buttons below!