The thing about the beach is that everyone wants to be here, even folks who don't have the means to rent an apartment, much less own a house. It's beautiful, sure, but it's expensive and out of reach for most.
On the path to Dog Beach someone had set up camp in the bushes, creating their own ocean side home for free. It was there a few days and then got torn down, presumably by the cops, and this is what was left: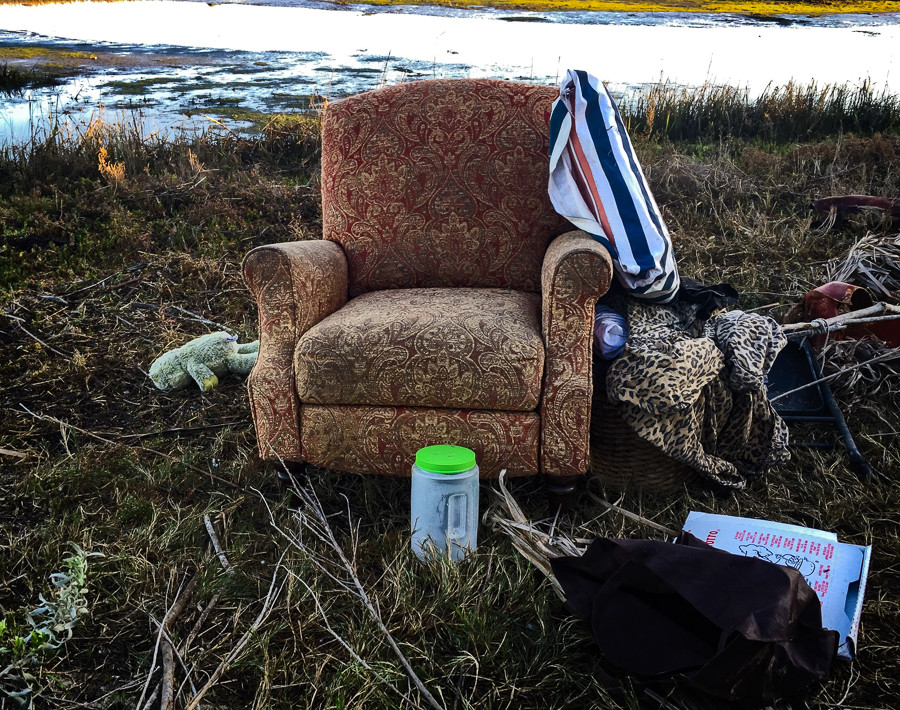 It reminded me of hauling a hide-a-bed to the beach, except much, much grimier.
What also struck me was the simplicity of it. The chair, the pizza box, the teddy bear. What else does a person need? Okay, maybe an actual roof, but I'd argue that this was a good representation of the basics: somewhere to rest your bones, food to eat, and something soft and comforting.
I've been thinking about what I want to do in the next few years, and I've got a ton of travel and project ideas. It's both exciting and overwhelming, since I'd like to do them all as soon as possible, thank you very much, and to my great disappointment this is not, in fact, possible. Not if I hope to do any of them well or with any level of sanity. Piling on too much, too fast is crazy-making for sure.
Which is what I did in the last six months or so, and I lost my way. I also tried to mold myself into someone else, someone more conventional, based on what I thought I was supposed to want rather than what's in my heart. I put some of those exciting plans on hold, which felt sad and hollow. Add to that shifting family dynamics which are good but overwhelming, and a body that won't obey no matter what I do (damn you, aging!), and suddenly I was adrift, depressed, and out of shape.
Has this ever happened to you? Things are going along swimmingly, and then a chain of events takes you so far off course you're wondering if you accidentally slid into a wormhole? I'm guessing it has. It's the stuff of life.
This isn't the first time for me, so here I am again, figuring out how to get back to shore. And for me, as always, the first step is radical simplicity. Deciding what's the first, most important thing I need to focus on to get back on track.
Despite how this post started, this does not involve recliners, take-out, or stuffed toys. It's getting my lean, healthy body back, because if I don't feel physically well, I won't feel mentally or spiritually well, and my exciting plans won't ever become reality. I need energy, agility, and stamina to move forward, as well as the emotional boost I get from caring for myself and turning this around. Agency and progress.
This involves replacing bad habits with good, and also getting a clear vision of my new and improved being. I say out loud, "I'm a person who nourishes herself in body and spirit." I picture her – me – with a lean, flexible body and a glow of vibrance and health. Bright eyes, strong core, and an ass that won't quit.
That last one is a metaphor, but you get my drift.
Here's my radical simplicity, which involves three small habits I'm practicing every single day: drink a smoothie, move my body, and meditate for five minutes. That's all I have to do. And as I do these things every day, not only does my body become leaner and lighter, my spirit becomes the same. Less weight, tangible and otherwise.
Have you ever had to get back to basics, to find your own radical simplicity? Let us know in the comments.
If you liked this post, feel free to share it with the buttons below!